Corporation Info
Corporation Name:詮亞科技股份有限公司
Services & Products:Solution Provider Company
Website:http://www.asianlink.com.tw
Business Hours:09:00-18:00 Monday through Friday

Profile
AsianLink Technology Incorporation is a company specializing in toy and niche product development as well as providing our clients with key parts sourcing, FPGA/ASIC design and system design service. In the other words, we propose complete solution from product concept stage to mass production stage.

With well renown in our FAE service and customer service, we are also an agent comany for some key parts and niche product.

There are many popular products have been targeted on the specific market successfully through AsianLink's help and dedication.

We are always welcome any possibility of business cooperation with you.
Contact us right now! Let's create win-win situation for business in the near future.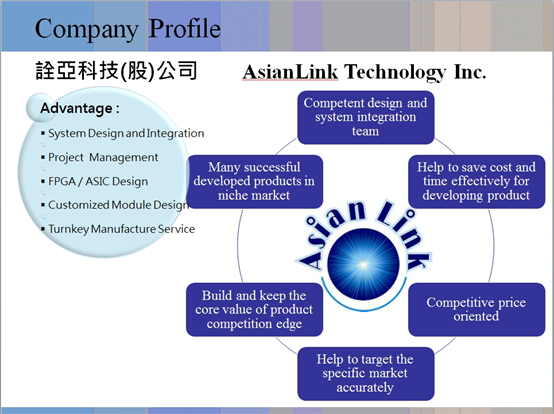 Services: Video/影像處理,TP/觸控面板設計,Toy/玩具,工業控制/醫療/安防/特定業,Niche/利基產品,設計開發,System Design,Product Development
Shipping & Payment
Service Zone:North of TWN, Mid of TWN, South of TWN, HK & Macao, China, S-E Asia, Japan & Korea, North America, Latin America, Europe, Oceania, Africa, Others